2009 ANZMAC Annual Conference >
Call for Papers
> Guidelines for Posters
Guidelines for Posters
Posters should be:
All posters must conform to the following guidelines:
Paper size: A0 (1189 x 841 mm)
Title and authors names centred and capitalise first letter in each word. The title should be in bold. Author's affiliations and e-mail addresses for corresponding authors should be included1.
Body of the poster may start with a short introduction at the top left corner, followed by methods and results, with conclusion at the lower right.
Graphics: Effective visual display of information is essential in a poster presentation. To achieve this goal, author (s) should concentrate on two or three main points and should prefer graphic displays (including photographs2 etc) over text to illustrate their message effectively. Overall, a poster should have more graphics than text. In addition, graphics should be simple to understand, with contrasting colours and no grid lines3.
Text: Poster should be easily readable from a distance of 1 - 2 metres, and 1.5 or 2 lines of spaces should be used between each line. It is advised that authors should also pay attention to the following points:

Headings should be bold or in colour.
Text should be kept to a minimum, and each block of text should include no more than a few sentences.
Suggested font sizes are:

Main title: 78-96 pt (bold/colour, upper case)
Author(s): 72 pt (bold, title case)
Affiliation(s): 48 pt (normal, title case)
Subheading: 36 pt (bold uppercase)
Body of text: 24 pt (normal)
Smaller fonts may be used in citations and acknowledgement.

All measurement units should be metric.
All posters must be clear laminated.
Velcro fasteners must be used to mount the poster to the display board – tape, push pins, nails, hooks, glue or staples are cannot be used.
All financial support/funding must be acknowledge/declared
Abstract submissions for posters will be accepted for inclusion in the conference proceedings. Posters must be written in English and submitted electronically.
Display
Posters will remain in the exhibit area throughout the duration of the conference. However, you will only be expected to present for the time listed in the program.
Set up times:
All posters must be presented at the conference registration desk by no later than 8.00am on Monday 30 November 2009.
Dismantle times:
All posters must be dismantled by 5.00pm on Wednesday 2 December 2009.
Please note: One of the listed authors must attend the poster during the designated time to discuss the work presented and respond to questions of all aspects of the presentation.
Sample Poster Presentation Layout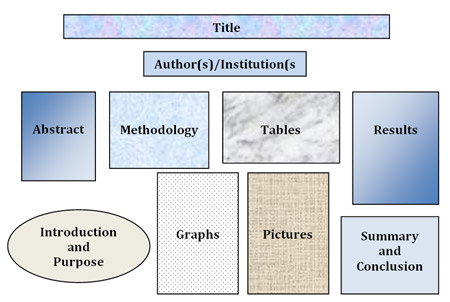 Authors are responsible for the transportation of their presentations.
Presenters are encouraged to bring along a pad and pen to attach to the poster for conference delegates interested in making contact with you to discuss your work in more detail.