2009 ANZMAC Annual Conference > Sponsors > Victoria University


OUR VISION
Our marketing students and graduates will be highly sought after professionals. They will be entrepreneurial, socially responsible, culturally sensitive and globally aware. We will achieve this through excellence in strategically aligned teaching and research and through our continued commitment to connecting with, and serving, the needs of not-for-profit and for-profit organisations, industries and community stakeholders in the western region, Australia and overseas.
CUSTOMISED LEARNING EXPERIENCES
Our marketing courses and research are supported by VU's practice of active engagement in communities and lifelong learning. We aim to customise student learning experiences around course choice, learning support, student advice and student leadership to best meet their current needs and future aspirations. Our teaching and research is underpinned by key philosophies, including:
Learning in the Workplace and Community
Enhancing Student Success
Internationalising our Teaching and Research
Workforce Futures
Opportunities and Aspirations of the West
OUR COURSES
Our undergraduate and postgraduate level courses are aimed to develop graduates who have the skills, knowledge and ability to undertake a range of tasks related to marketing and its management, including its planning, implementation, control and evaluation.
Graduates are familiar with the principles and practices of brand  management, consumer behaviour, marketing communications, marketing research, marketing strategy and channel management.
Our graduates are critical thinkers, computer literate, culturally and socially sensitive and have strong numeric and statistical skills and an understanding of the importance of marketing in an ethical and socially responsible manner in an increasingly globalised marketplace.
Our marketing courses can be combined with: international trade, event management, music industry, retail, tourism and hospitality.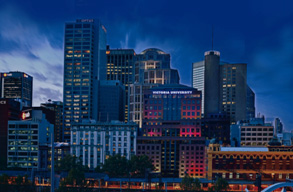 Our Postgraduate marketing courses operate on levels 9, 10 and 11 of the City Flinders Campus, opposite the Flinders Street train station.
OUR STAFF
Our marketing staff are engaged in cutting-edge teaching and research. Our staff actively review the course content. Problem-based learning, process writing, online technologies, the case study method and applied learning feature prominently in our courses. We use industry-based software, such as Asteroid from Roy Morgan and XSight from QSR in our marketing units. Our staff bring their research into our courses which ensures our curriculum is contemporary and at the forefront of marketing education.



Doctor of Philosophy (DU)
Master of Marketing (RMIT)
Dip.Agr.Ext.(Melb.)
Dip.Ag.Sci.(Long.)

Unit Coordinator: Brand and Product Management (PG)




Associate Professor Anne-Marie Hede

Dip. App. Sci. (RMIT)
PhD (VU)
M.Bus. (VU)
Grad. Cert. Tert. Ed. (Deakin)

Discipline Leader
Unit Coordinator: Marketing Management




PhD (VU)
MA (JCU)
Grad Dip Arts Admin (SA)
BEd Arts & Crafts (Melb.)

Unit Coordinator: Hospitality and Events Marketing, Music Marketing




Graduate Certificate in Teaching and Learning in Tertiary Education (VU)
Master of Business (VU)
Bachelor of Business (VU)

Unit Coordinator: Marketing Research, Services and Relationship Marketing




PhD (Monash)
MA (Research) (VU)
BA (Dist) (FIT)
BEd (La Trobe)
DipEd (La Trobe)

Unit Coordinator: Introduction to Marketing, Marketing Strategy




PhD (Melbourne)

Unit Coordinator: Marketing Research (PG), International Marketing




M.Bus (VU)
B.Bus (Charles Sturt)
B.A (Wellington)

Unit Coordinator: Product and Brand Management




M.Bus VU
BEd Tas CAE
Dip. Teach Tas CAE

Unit Coordinator: Introduction to Marketing




B.A.(Psych)
Grad.Dip.Psych
M.A. (Psych) (Melb)

Unit Coordinator: Consumer Behaviour, Advanced Marketing Research
PhD (VU) 
M. Bus (RMIT)
B. Tourism Management: (RMIT)
Adv. Dip.Bus. (Box Hill Institute of TAFE)
Adv. Cert. (Travel Operations) (Box Hill Institute of TAFE)
BEd (Pedagogy University)

Unit Coordinator: Marketing Research




BBS – Bachelor of Business Studies
MBS (Hons) – Master of Business Studies (First Class Honours in Marketing

Unit Coordinator: Advertising and Marketing Communications




M.Bus (VU)

Unit Coordinator: Marketing on the Internet, Introduction to Marketing




B.Bus FIT
B.A. (Hons) LaT
DipEd HawthornInstEd
DipSpanishStud. Barcelona

Unit Coordinator: Marketing Planning & Strategy
OUR RESEARCH STUDENTS
Staff in the marketing area are supervising a number of Masters, PhD and DBA students. Topics include: Branding in the Indonesian MICE Sector; The Role of Cultural Friction in the Tourism Sector, Consumer Behaviour and Mixed Emotions, Marketing Orientation in Multinational Organisations and Online Shopping Behaviours in Saudi Arabia. Our Faculty provides excellent conditions for students including access to funding and opportunities to attend conference and professional development training and activities.
COURSE INFORMATION
Postgraduate Marketing at VU [pdf]
Undergraduate Marketing at VU [pdf]
MARKETING STAFF CONTACT DETAILS
Post-graduate course entry: Dr Leanne White
Contact email: leanne.white@vu.edu.au
Undergraduate course entry
Contact email: HTMcoordinator@vu.edu.au 
For research degrees: Associate Professor Anne-Marie Hede
Contact email: anne-marie.hede@vu.edu.au