2009 ANZMAC Annual Conference > Sponsors > The University of Western Australia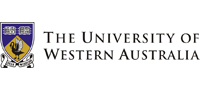 About the UWA Business School
The UWA Business School academic staff are grouped into four distinct academic disciplines: Accounting & Finance, Economics, Management & Organisations and Marketing.
About the Marketing Discipline Group
The Marketing group maintains a strong research focus with an emphasis on the challenges of marketing, including consumer behaviour, brands and branding, advertising, customer focus, product strategy, and marketing research. A distinct focus on industry is also a feature of this group with many of its members conducting collaborative projects in industries as diverse as the health sector, to the tourism industry and online search engines and service providers.
Marketing Expertise
W/Prof. Geoff Soutar (PhD)
Head of Discipline

Customer service and customer satisfaction
International marketing of education
Market orientation research
Research methodology
Role of value and quality in consumer decision making
Service quality
Small and medium enterprise research

W/Prof. Jill Sweeney (PhD)
Associate Dean (Research & Research Training)

Services marketing
Word of mouth
Customer perceived value
Customer co-creation
Branding and brand equity
Relationship marketing
Marketing research

W/Prof. Tim Mazzarol (PhD)
Director of Doctoral Programs

Entrepreneurship
Industry clustering and innovation
Innovation and adoption of new technology
International education marketing and management
International marketing of services
Public sector and non-profit marketing
Regional enterprise development
Small business management
Strategic networking and innovation
Strategic management
Strategic marketing
Word-of-mouth marketing
Co-operative enterprises
Economic development
Financial services marketing
Health care and biotechnology
Investment marketing
Macromarketing

Advertising and promotion strategy
Branding and brand equity
Choice modelling
Data analysis techniques
Effect of advertising and promotion

Public policy and consumers
Susceptibility and receptivity
Quantitative marketing research, advanced quantitative methods and modelling
Services marketing
Facilities management and marketing
Business strategy
International marketing
Retailing
Word of mouth and rumour
Culture
Sports and event marketing
Entertainment marketing

Marketing across cultures
International marketing
Cross-cultural consumer behaviour
Consumer psychology
Study of personal values
Cross-cultural research methods

Online marketing
Electronic marketing
Internet marketing
Tourism
Tourism and technology

Consumer behaviour
Cross-cultural research methods
Macromarketing
Marketing and consumer behaviour in East and Southeast Asia
Marketing and development
Marketing research
Strategic marketing
Transition economies

Advertising and promotion strategy
Bilingual and multilingual consumers
Consumer behaviour
Consumer psychology
Cross-cultural consumer studies
Global marketing strategy
Internet and mobile advertising
Marketing in China

Advertising bans
Choice modelling
Consumer addictions/vices (alcohol, tobacco, gambling)
Consumer behaviour
Contemporary marketing issues
Effect of advertising and promotion
Electronic commerce
Electronic/interactive/Internet marketing
Gambling
International marketing
Macromarketing
Marketing management
Marketing research
Marketing to children and adolescents
Online gambling
Retailing
Social marketing
Warning labels

Consumer research
Health promotion (physical and mental)
Qualitative research methods
Social marketing
Alcohol consumption
Childhood obesity
Food marketing
Vulnerable consumers

Business relationships and networks
Culture within business relationships
Electronic commerce
Electronic procurement
Procurement

Innovation adoption and diffusion
Innovation systems
Management of agricultural innovations

Environmental marketing
Ethical marketing and business ethics
Macromarketing
Quality of life and well-being studies
Happiness and life satisfaction
Religion and spirituality
Societal marketing
Transformational marketing
Experiential marketing
Social marketing
Examples of PhD, DBA research topics in Marketing
A study of consumer preferences for training purchase and the impact of values on attribute importance in Singapore
An investigation into the effects of risk and uncertainty on consumers' decision-making processes: a cross-national study
Drivers of student satisfaction and student loyalty in an Australian university setting
Examining re-patronising intentions formation: the intention-as-wants model
Investigating internet adoption and implementation by Malaysian hotels: an exploratory study
Leaders' style, ethical strength and employees' job performance
Organisational web strategy implementation in Singapore
Re-testing the link between youth receptivity to tobacco promotion and their susceptibility to smoke
Strategic networking and growth of technology-oriented small and medium enterprises (SMEs)
The effect of price and health information in shifting young children's preference towards healthier food
The effects of country and higher education images in mainland Chinese students' intention to enroll in an offshore program
The impact of numeric sub-branding on Singaporean Chinese consumers: a conjoint analysis
The influence of place attachment on People's choices in a rural town in Western Australia
The moderating influence of hedonic consumption in an extended theory of planned behaviour
The relevance of strategic human resource management (SHRM) for the growing small business
Toward a better understanding of uncommon loyalty: an application in sport
Willingness to buy from internet web sites: a suggested model
Word-of-mouth: the effect of service quality, customer satisfaction and commitment in a commercial education context