2009 ANZMAC Annual Conference > Sponsors > The University of Auckland Business School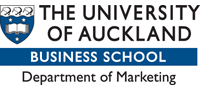 Welcome to the Department of Marketing
The Department of Marketing at The University of Auckland Business School is a premiere marketing department in the region.
It won top place in the Performance-Based Research Funding rankings in the 2006 round.
The Department is recognised for its:
unique combination of breadth in knowledge
varied international research perspectives
international calibre research
innovative, research-based teaching
diverse industry experience
For more information about the department, please visit our website.