2009 ANZMAC Annual Conference > Sponsors > Sustainability Victoria
Silver Sponsor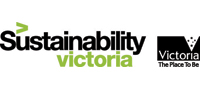 Our vision
Victorians demonstrating sustainable resource use to support a thriving community and economy.
Our purpose
Showing the way
Sustainability Victoria's purpose is to show the way to using our resources more efficiently and reducing our everyday environmental impacts.
Our customers
To achieve our vision we must engage with and provide value to all Victorians. We work across all industry sectors, as well as with schools, State and local governments, community groups and individuals to promote and encourage environmental sustainability.
Our values
Collaboration - we work with others to achieve
We work in partnerships with individuals and organisations across both the private and public sectors to deliver sustainable outcomes.
Action - we make things happen
Everything we do is dedicated to changing the way Victorians supply and use resources.
Leading Thinking - we apply the best ideas
We contribute, challenge, communicate and apply the world's leading thinking in sustainability.
Inspiration - we motivate others to action
We seek to inspire and motivate Victorians to become involved in creating a Sustainable Victoria.
Switch from plastic to reusable
grocery bags

Victorians and the environment
in 2008

Sustainability Fund 2009 Round
now open
Our programs
Sustainability Victoria has a number of programs and initiatives designed to increase Victoria's environmental sustainability.
Find a service
Find an organisation that can help you become more sustainable.
Get involved!
Find out ways you can be more sustainable at home, at work, in the garden and in the community!
Get informed
Sustainability Victoria works in a number of ways to provide information and research for Victorians.
Transcript
Each balloon represents 50 grams of Greenhouse Gas.
In just one month, the average home produces 20,000 of them.
If you don't see the impact now, it's your children who will.
You have the power to make a difference to climate change.
Authorised by the Victorian Government, Melbourne.
Transcript
I use a glass of water instead of running the tap while I clean my teeth.
Transcript
I pledge to turn off all my lights in the rooms that I'm not using, and to switch off the power when I'm not using the appliances.
Transcript
I'm committing to the new low-flow showerhead.