2009 ANZMAC Annual Conference > Sponsors > StratX Simulations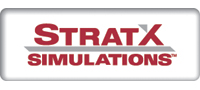 Do you want your students to live test the theories you teach in class and learn from their successes and failures?
Business Simulations are the essence of action-based learning, and 9 of the top 10 European Business Schools and 26 of the top 30 Global MBAs choose StratX Simulations.
Since the creation of Markstrat 30 years ago, StratX has lead the field in designing simulations that not only generate real experience but also greater teamwork and excitement from Undergraduate to MBA profiles, as well as among Executive education.
StratX Simulations looks forward to meeting you in Melbourne to present Markstrat Online and Markops Online, as well as its newly released Blue Ocean Strategy Simulation (BOSS) developed with the authors of the bestseller 'Blue Ocean Strategy', professors Chan Kim and Renée Mauborgne from INSEAD.