2009 ANZMAC Annual Conference > Sponsors > International Journal of Advertising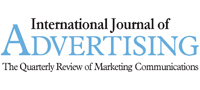 The International Journal of Advertising is a leading review of advertising knowledge and marketing communications. It is published five times a year by Warc, in association with The Advertising Association.
A peer-reviewed journal, it welcomes contributions from all over the world and encourages discussion, exchange and cross-fertilization of ideas. The International Journal of Advertising delivers authoritative analysis for both academics and practitioners.
IJA's international coverage spans:
Advertising & media
Public relations
Direct marketing
Interactive
Sales promotion
Integrated marketing communications (IMC)
Sponsorship
Issues relating to advertisers, agencies & target audiences
More information is available at www.internationaljournalofadvertising.com.