2009 ANZMAC Annual Conference > Sponsors > Deloosh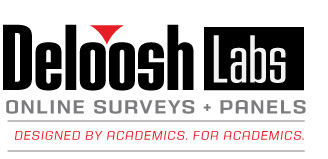 Designed by academics, for academics. Deloosh offer survey programming and data collection from Australia's number 1 quality consumer panel. Our proprietary panel maintenance techniques consistently ensure respondent data quality. We are the only panel and survey specialists in Australia to use advanced Red Shield™ technology to ensure unrivalled data quality, included FREE for academics.
Ask around. We've earned a reputation amongst academics for getting the job done at the right price, to the right standard, on time. We're serious about providing superior service to academics. To prove it, we offer all academics a standard 20% discount. Call now to speak with an academic representative +61 3 8669 0408, or visit www.deloosh.com.au/fastquote.